Community Service
We develop the 'whole person' and inspire every student to be a global citizen who will be able to meet the challenges of the world. In order to give young people the opportunity to interact with the community, we encourage activities within the curriculum, through school trips and through our weekly co-curricular activities. All students at some point in the school year engage in community and service activities which will develop their appreciation of the community in the school and those locally. We also encourage the students to take their own initiative in the service to their communities.
Community and Service in the school curriculum aims to develop:
a sensitivity to the needs of the community and society in general
an awareness of the role of the individual within the community
a willingness and the skills to respond to the needs of others
an altruistic attitude which enriches the lives of students through enhanced insight into different social patterns and ways of life.
Students engage in interactive situations that will enrich them emotionally, socially, morally and culturally by involving themselves in positive action and contact with other social and cultural environments.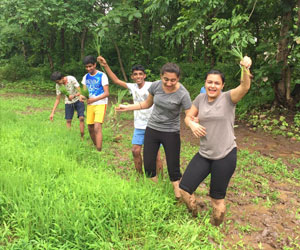 Field Trips:
Field trips are organized twice a year to facilitate the actualization of various concepts. Responsible adults, teachers, volunteering parents and custodian staff accompany your child's participation in these trips. If you have any objections to your child's participation in these trips please inform the school office in writing and the reason thereof.
Extra Curricular Activities: 
We believe in developing well rounded personalities and these activities are as important as the curricular. From Sports to literary skills; Robotics to learning about finances; from recycling waste to campaigning for a green and clean environment; the students are actively involved in all activities. The Swachchata Abhiyan has been and will continue to be an ongoing one for the students.
Since September 2014, the students have been a part of the Global Scholars Programme. As a Global Scholar, students work together with classes from different cities around the world. They explore each other's cities, investigate key urban issues, and take action to improve cities. By investigating the local water landscapes and comparing them with those in cities around the world, students learn interesting lessons about both water and the cities in which they live. They also learn how they can use water more efficiently as individuals, communities, and cities, and how education, advocacy, and technology can aid in these efforts.
Clubs: 
We have after school clubs Science club, the Eco club, Energy club, Gratitude Club, Literary Club. Parents are encouraged to volunteer and share their expertise/knowledge or talent with us.